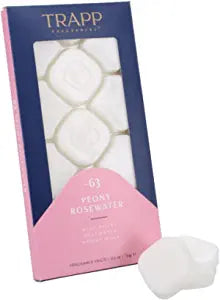 Trapp - Peony Rosewater #63 Wax Melt
Trapp Peony Rosewater Wax Melt, just like the perfect peony, this fragrance is elegant and timeless. Experience the energy that comes from a room full of fresh flowers, featuring notes of rosewater and woody musk. 
Trapp Fragrance Wax Melts allow you to enjoy your favorite fragrance without the flame. Get creative and mix two or more fragrances together to create custom combinations. Providing up to 30 hours of premium fragrance, Trapp wax melts are some of the most fragrant on the market. Designed to work well in any wax warmer, each wax melt pack comes with 13 multi-sized pieces.