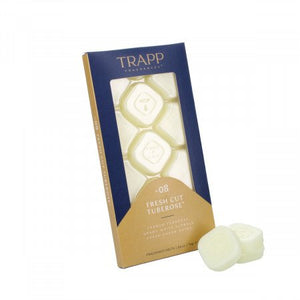 Trapp - Fresh Cut Tuberose #8 Wax Mel
Trapp Fresh Cut Tuberose Wax Melt is a tropical white flower with an intense, heady floral fragrance – suggestive of a gardenia, only more powerful and memorable.
Trapp Fragrance Wax Melts allow you to enjoy your favorite fragrance without the flame. Get creative and mix two or more fragrances together to create custom combinations. Providing up to 30 hours of premium fragrance, Trapp wax melts are some of the most fragrant on the market. Designed to work well in any wax warmer, each wax melt pack comes with 13 multi-sized pieces.